Pope Plastic Surgery: George Pope, MD, FACS
2629 Edgewater Drive
Orlando, FL 32804
Phone: (407) 857-6261
Monday-Thursday: 8:30 a.m.-5 p.m.
Friday: 8:30 a.m.-12:30 p.m.

Breast Augmentation
While their goals and reasons for wanting breast implants differ, the women from Winter Park and surrounding areas who visit board-certified plastic surgeon Dr. George Pope for breast augmentation in Orlando, FL, have one thing in common: they consistently achieve results that allow them to feel more confident and beautiful. This is because Dr. Pope listens to what they want, helps them form realistic expectations about their results, and has the experience and talent necessary to provide attractive, natural-looking outcomes perfectly fitted to each woman.
What Is Breast Augmentation?
Breast augmentation, sometimes called a boob job, is a procedure that Orlando patients age 18 and up choose for a variety of personal reasons, which commonly include:
Making naturally small breasts larger and more shapely
Filling out breasts that have lost volume after pregnancy, breastfeeding, and weight loss
Balancing breasts that are different sizes and shapes
Filling out dresses, tops, and swimsuits
How Much Does Breast Augmentation Cost in Orlando?
The cost of breast augmentation in the Orlando area depends on several factors, including the type of implant used and whether other procedures are included in the surgery. We will provide you with a personalized quote after your consultation. Your pricing will include all fees and routine pre- and post-op care for a full year. Pope Plastic Surgery is proud to offer financing with CareCredit® to help make breast augmentation even more affordable.
Breast Augmentation vs. Breast Lift
Because breast augmentation does not take care of significant sagging, Dr. Pope may recommend combining a breast lift with your procedure. Women who want a combination of improvements with a single surgery add breast augmentation to their mommy makeovers.
A Reputation Built on Results
If I could give higher than 5 stars I would. I love this office from Dr. Pope to his staff. They all...
I want to thank Dr. Pope for an amazing procedure! From the first conversation on the phone with his...
Dr Pope and his team are both honest and respectful. Upmost care to their patients and always listen...
Dr. Pope is the most talented Surgeon. He is very knowledgeable, experienced, and very kind. As soon...
Wh
at Is the Best Type of Breast Implant?
The best type of breast implant varies between patients and will depend on your unique goals, preferences, and budget. Dr. Pope will discuss the pros and cons of each implant type during your consultation.
Silicone gel:

Silicone is a lighter fill option that looks and feels more like natural breast

tissue

;

they're

available for women age

22 and older.

Highly cohesive silicone gel:

Also known as "gummy bear" implants, highly cohesive silicone is a firmer silicone option

that retains its shape

even if the outer shell is broken.

Saline:

Consist

ing

of sterile salt water,

saline implants

are

used less commonly among patients today.

They are available for those who are

over 18 years of age.
How Do You Choose Breast Implant Size?
Dr. Pope can recommend an implant size that will best provide the breast size you would like to be. Our practice has implant sizers that you can place in your bra to get an idea of how you will look at different sizes.
Smaller:

Women with less pre-existing breast tissue or those seeking more subtle results may be better suited to a smaller implant.

Larger:

Patients with a larger body structure or who wish to add more volume could benefit from a larger implant size.
What's the Difference Between High and Low Profile
Implants?
The profile of a breast implant is the measurement of how far it projects from the chest wall. This effect can be seen most clearly when the breasts are viewed from the side.
Lower profile:

Less projection from the chest wall and a more subtle, natural-looking result.

Higher profile:

M

ore noticeable volume and more dramatic results.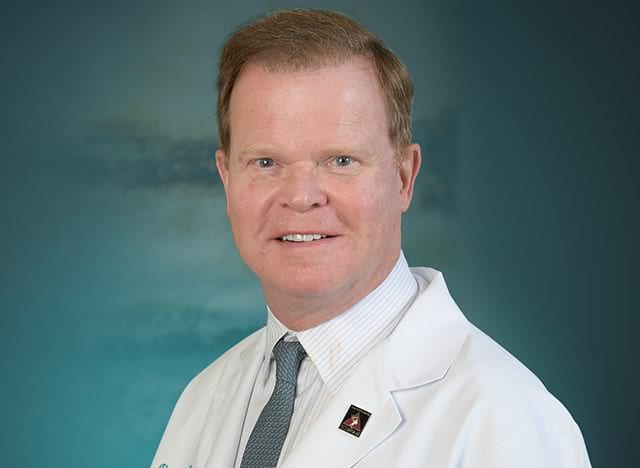 George Pope, MD, FACS
Dual Board-Certified Plastic Surgeon
Respected by patients and other physicians, Dr. Pope has been serving the Orlando area for over 30 years. Whether you're considering enhancement of your face, breasts, or body, he has the training, talent, and experience necessary to achieve the attractive results you want.
Meet Dr. Pope

How Is Breast Augmentation Performed?
Experienced breast surgeon Dr. Pope performs most breast augmentation procedures as outpatient surgeries in the Orlando office building's private, AAAASF-certified surgical center. Anesthesia is administered under the care of a board-certified anesthesiologist. While he personalizes each procedure to the patient, Dr. Pope generally performs breast augmentation as follows:
Incisions are placed along the breast crease where they are naturally hidden (inframammary incision). In some cases, he places the incisions along the lower border of the areola (periareolar incision).
A space for the breast implant is created underneath the chest muscle.
A breast implant is inserted into each pocket using the Keller Funnel®. This device, which looks like a pastry bag, prevents the implants from contamination while they are inserted. The Keller Funnel also allows Dr. Pope to insert the implants through the smallest possible incisions.
Dr. Pope will make sure he has achieved the desired breast size and shape.
Exparel® will be applied to the surgical areas for long-lasting pain control.
The incisions will be closed with sutures and steri-strips.
A surgical bandage will be wrapped around your chest.
Are Breast Implants Safe?
Like any surgery, breast augmentation comes with potential risks and rewards. Some patients' bodies don't take well to the presence of implants, and others may experience complications from the surgery itself. In these cases, patients may seek breast revision surgery to address their concerns.
However, statistically, the likelihood of complications is low. This is especially true if the procedure is performed by a board-certified plastic surgeon who is trained in proper safety precautions.
Does Breast Augmentation Hurt?
After surgery, discomfort is usually minimal because the pain control from Exparel lasts about 3 days. Swelling is normal, as is a feeling of tightness across the chest.
How Long Does It Take to Recover From Breast Augmentation Surgery?
Patients are typically ready to return to non-strenuous work and school in about 10 to 14 days. You will have a follow-up appointment with Dr. Pope after a week; he encourages you to call with any concerns you may have before that time.
Recovery Timeline
Sleep with upper body elevated: 1 week
Resume normal activities, work, and school: 10 to 14 days
Resume strenuous activities: 6 weeks
Achieve final results: 3 months
Visit our Resources page to review patient instructions for preparing for breast augmentation and recovery.
How Should I Sleep After Breast Augmentation?
To reduce swelling, sleep with your upper body elevated for the first week after surgery. You can prop yourself up with extra pillows or sleep in a recliner.
Avoid sleeping on your stomach for at least a month.
Will My Breast Implant Scar Be Noticeable?
The appearance of your scar will depend on the location of your incision. At our practice, most incisions are placed along the breast crease underneath the breast. The natural shape of the breast itself usually hides the scar from view.
When Can I Exercise After Breast Augmentation?
Most patients are ready to resume light exercise in a month, as directed by Dr. Pope. It's important to stand and walk around slowly at least 3 times a day for the first month.
Can I Breastfeed After Breast Augmentation?
Yes, the majority of women can breastfeed after breast augmentation. If you are concerned about breastfeeding after surgery, Dr. Pope can customize your incision style and implant location to best protect any milk ducts or specialized tissue.
What to Avoid After Surgery?
Just as there are things you should do after surgery to enhance the recovery process, there are also steps to avoid post-op. These include:
Sleeping on your side or stomach until your incisions are fully healed
Having more than one alcoholic drink
Wearing an underwire bra during the first several weeks after surgery
Getting stitches wet (avoid baths and swimming until the incisions are healed)
Smoking cigarettes for several weeks
Lifting anything heavier than a few pounds
Resuming strenuous exercise before being cleared by Dr. Pope
How Long Will it Take To See My Final Breast Augmentation Results?
After breast augmentation, patients are excited to return home with fuller breasts. Initially, the implants will be somewhat high and tight on the chest due to swelling and tightness of the muscles and skin. As swelling subsides and tissues relax, the implants will "drop and fluff" into more natural and soft contours. At 6 weeks, your breasts should look and feel much better, and at 3 months, you should have reached your final, beautiful results.
Can Breast Augmentation Surgery Be Combined With Other Procedures?
Yes, breast augmentation can be easily combined with other breast and body treatments. Many women combine their breast augmentation with a breast lift to reduce sagging or drooping. Others include liposuction, tummy tuck surgery, and nonsurgical treatments, along with breast implants, as part of their mommy makeover procedures.
Breast Augmentation FAQ
Do I have to wear a special bra following breast enhancement surgery?
Yes, you will need to wear a surgical bra to support your breasts for the first few weeks after surgery.
Can I go home alone after surgery, or will I need someone to help me?
Patients need to be driven home after surgery by an adult friend or family member. Since you will be sore and your mobility will be limited, you will need an adult to help you out at home for a few days.
Can breast implants give you cleavage?
Round breast implants can enhance the cleavage area when the natural breasts are set closer together on the chest. Discuss your cosmetic goals with Dr. Pope during your consultation so that you have realistic expectations for your results.
How many years do breast implants last?
Implants are not designed to last a lifetime; however, if you are not having any concerns and are happy with the way your breasts look, you can leave your implants in place.
What if I want to change the size of my implants later on?
Women can have elective implant exchange to change the size and fill material of their implants at some point in the future.
Do breast implants get saggy with age?
Whether you have implants or not, you can expect your breasts to sag over time. Larger implants can accelerate the process. To maintain your youthful breast shape as long as possible:
Wear a supportive bra consistently
Keep your weight stable
Do not become pregnant
What's My Next Step?
Are you ready to discover the difference 30 years of dedicated experience as a plastic surgeon can make in your care and results? Request a consultation with board-certified plastic surgeon Dr. George Pope using our online form or call at (407) 857-6261 for an appointment.
Back to Top