Pope Plastic Surgery: George Pope, MD, FACS
2629 Edgewater Drive
Orlando, FL 32804
Phone: (407) 857-6261
Monday-Thursday: 8:30 a.m.-5 p.m.
Friday: 8:30 a.m.-12:30 p.m.

Pope Plastic Surgery: George Pope, MD, FACS
6042 Magazine St.
New Orleans, LA 70118
Phone: (407) 857-6261
By Appointment Only

BOTOX® Cosmetic
At Pope Plastic Surgery, BOTOX Cosmetic is popular among Orlando, FL, women and men of all ages who want to look naturally refreshed without surgery or an involved treatment. When performed by dual board-certified plastic surgeon Dr. George Pope and our highly experienced nurse injector, Linda Gilliland, no one will know why you always look rested and never seem to age.
How does BOTOX work?
BOTOX is a wrinkle relaxer that is injected into tiny facial muscles. Once it takes effect, the treated muscles temporarily release and the overlying skin gradually smoothes out. Because of the way it works, BOTOX is used to address dynamic wrinkles, which are caused by the contractions of facial muscles. Injectable dermal fillers, like JUVÉDERM®, are used for different concerns because they smooth away wrinkles by filling them in from underneath. In many cases, a combination of BOTOX and fillers can provide an even greater rejuvenation than either treatment on its own.
What does BOTOX treat?
Good candidates for BOTOX treatments are women and men interested in a simple way to look rejuvenated and more youthful. We use these treatments to resolve a variety of common concerns, including:
Crow's feet that form at the outer corners of the eyes when you smile or squint.
Vertical lines between the eyebrows, often called frown lines or the 11s, from concentrating and scowling.
Horizontal forehead furrows that develop from raising the eyebrows.
Sagging eyebrows from the natural aging process.
These days, younger people often choose BOTOX as a proactive measure to keep dynamic lines and wrinkles from forming. It's easy to combine the treatment with JUVÉDERM VOLBELLA® lip enhancement and other options.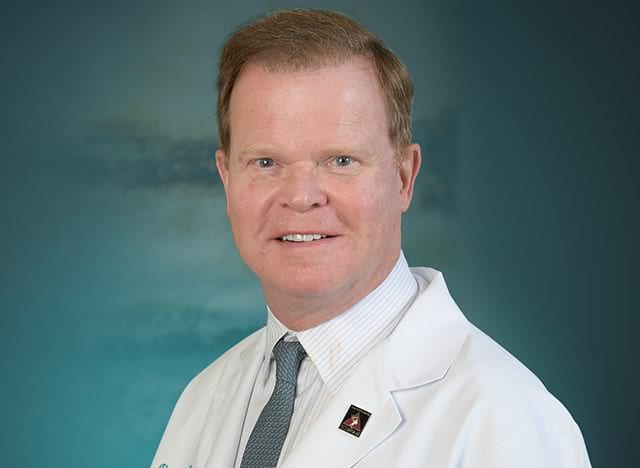 George Pope, MD, FACS
Dual Board-Certified Plastic Surgeon
Respected by patients and other physicians, Dr. Pope has been serving the Orlando area for over 30 years. Whether you're considering enhancement of your face, breasts, or body, he has the training, talent, and experience necessary to achieve the attractive results you want.
Meet Dr. Pope
How are BOTOX treatments performed?
BOTOX treatments are performed right in our office by Dr. Pope or Linda. No anesthetic is necessary, but numbing cream is available if desired. Using a short, fine needle, your practitioner makes a few quick, strategically placed injections that cause little to no discomfort. After treatment, you are free to resume your normal daily routine. The injection sites may be slightly pink for the first few hours depending on how your body reacts.
How long will it take to see my final BOTOX results?
While it's natural to want instant gratification from your treatment, BOTOX results take a few days to develop making them even more discreet than filler treatments. Treated wrinkles begin to smooth out within 2 to 5 days and continue to fade for about 7 to 10 days. While experiences vary, results usually last about 3 months. We recommend returning for maintenance treatments when you first notice the lines forming again.
How much does BOTOX cost?
The cost of BOTOX in the Orlando area is determined by the number of units injected. Dr. Pope or Linda will discuss your specific pricing after assessing your concerns and goals. Pope Plastic Surgery is proud to offer financing with CareCredit® to help make BOTOX treatments even more affordable.
What is the next step?
Are you ready to discover the difference 30 years of dedicated experience as a plastic surgeon can make in your care and results? Request a consultation at Pope Plastic Surgery or call (407) 857-6261 for an appointment.
Back to Top