Pope Plastic Surgery: George Pope, MD, FACS
2629 Edgewater Drive
Orlando, FL 32804
Phone: (407) 857-6261
Monday-Thursday: 8:30 a.m.-5 p.m.
Friday: 8:30 a.m.-12:30 p.m.

Male Breast Reduction
Enlarged or puffy nipples and full breasts can be embarrassing to live with as a man, whether you're wearing a shirt or going shirtless. While many men and adolescents suffer from these concerns—sometimes from a medical condition called gynecomastia—most don't talk about it. Dr. George Pope is an experienced, board-certified plastic surgeon who understands. He offers long-lasting relief through male breast reduction, also called gynecomastia surgery, at his Orlando, FL, practice.
What Is Gynecomastia?
The actual medical condition gynecomastia is usually caused by a hormone imbalance. It may resolve itself in some teens once puberty is complete. Often enlarged male breasts and areolas are a result of obesity, steroids, and certain medications.
What Is Male Breast Reduction or Gynecomastia Surgery?
Dr. Pope performs male breast reduction (gynecomastia surgery) to provide men and teenagers (who are at least 17) the following, life-changing benefits:
Creating firm, flat, masculine chest contours
Reducing enlarged or puffy areolas
Restoring confidence with or without a shirt
Because gynecomastia doesn't always affect each breast equally, Dr. Pope can balance natural asymmetries during the surgery. Patients may also choose to address other areas such as "love handles" with liposuction during the same surgery.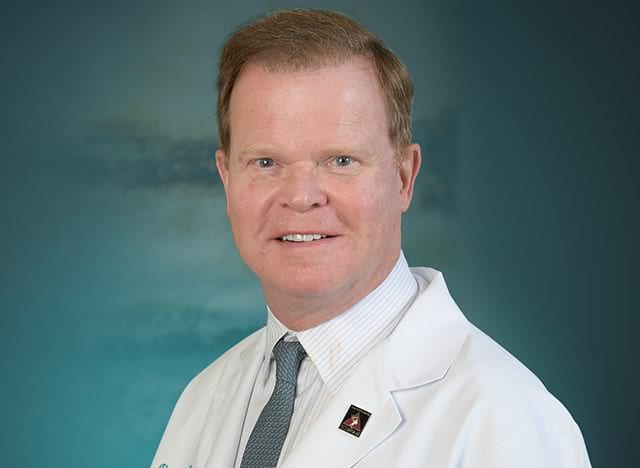 George Pope, MD, FACS
Dual Board-Certified Plastic Surgeon
Respected by patients and other physicians, Dr. Pope has been serving the Orlando area for over 30 years. Whether you're considering enhancement of your face, breasts, or body, he has the training, talent, and experience necessary to achieve the attractive results you want.
Meet Dr. Pope
How Is Male Breast Reduction Performed?
Dr. Pope usually performs male breast reduction as an outpatient procedure in a private surgical center in the same building as his Orlando, FL, office. Anesthesia is administered by a board-certified anesthesiologist. He uses the following techniques:
Liposuction is used when the enlargement is mainly due to excess fatty tissue.
Surgical excision removes firm, fibrous glandular tissue from behind the areola, reduces enlarged areolas, and tightens lax skin. Incisions are usually placed around the edge of the areola and occasionally along the lower chest contour.
A combination of excision and liposuction.
With any plastic surgery, discretion is important; this is especially true with male breast reduction. Dr. Pope takes care to make incisions as small and as inconspicuous as possible to minimize scarring.
A Reputation Built on Results
You deserve the highest caliber of service, care, and results, and at Pope Plastic Surgery, we're committed to providing all that and more. But don't take our word for it—see for yourself what our actual patients have to say about their experiences with us.
Read More Patient Reviews
Is Gynecomastia Surgery Painful?
Some men experience minor soreness for the first few days after male breast reduction, but this discomfort is typically minor and temporary. Dr. Pope will advise you about any medication you may need during this time to keep you as comfortable as possible.
What is Gynecomastia Surgery Recovery like?
In most cases, recovery is quite short after male breast reduction; however, each person and each surgery is unique. It is normal to develop swelling and bruising that lasts approximately 2 to 3 weeks. Patients are usually are back at work in just a couple of days. Complete recovery may take a month or more, but patients are usually able to resume many normal activities during this time. It's especially important to avoid sun exposure to the chest for the first 12 months to avoid causing the scars to darken as they are healing.
Visit our Resources page for more information.
How Long Will it Take to See My Male Breast Reduction Results?
Chest contours typically settle into their final shape within 3 months as swelling dissipates. It takes approximately 6 months for the incisions to fade to white.
How Much Does Male Breast Reduction or Gynecomastia Surgery Cost?
The cost of male breast reduction in the Orlando area depends on several factors, including the approach used. We will provide you with a personalized quote after your consultation. Your pricing will include all fees and routine pre- and post-op care for a full year. Pope Plastic Surgery is proud to offer financing with CareCredit® to help make male breast reduction even more affordable.
What Is My Next Step?
Are you ready to discover the difference 30 years of dedicated experience as a plastic surgeon can make in your care and results? Request a consultation with board-certified plastic surgeon Dr. George Pope using our online form or call (407) 857-6261 for an appointment.
Back to Top