Pope Plastic Surgery: George Pope, MD, FACS
2629 Edgewater Drive
Orlando, FL 32804
Phone: (407) 857-6261
Monday-Thursday: 8:30 a.m.-5 p.m.
Friday: 8:30 a.m.-12:30 p.m.

SculpSure®
Men and women in Orlando, FL, who work out, lead active lives, and watch what they eat can still be frustrated because they can't lose stubborn pockets of fat in trouble spots such as the hips, abdomen, and thighs. SculpSure is a nonsurgical alternative to liposuction that reduces that fat without downtime.
What Is SculpSure?
Using state-of-the-art light-based technology, SculpSure destroys fat cells using thermal energy. It is the first laser treatment cleared by the FDA for noninvasive fat reduction of the flanks, abdomen, back, and inner and outer thighs. It can also be used on the neck to minimize the appearance of a double chin.
Fat cells melted by SculpSure are naturally flushed from the body over the course of a few weeks. Because there are no incisions or injections, the treatment is completely noninvasive and requires virtually no downtime.
"The results have been AWESOME! I've lost almost three inches off my waist, and the skin looks smoother, which I never thought possible after having a baby. My clothes absolutely fit better! I don't have that muffin top thing going on anymore. I'm definitely more confident and it also motivates me to keep going and keep working out. If you feel good about yourself, it really can enhance the rest of your life. I'm really happy that I chose to come and have my consultation and go for it!" — Melissa S.
Who Can Benefit From SculpSure?
People who are at or very close to the weight they want to maintain and who want to reduce fat in specific trouble spots are ideal SculpSure candidates.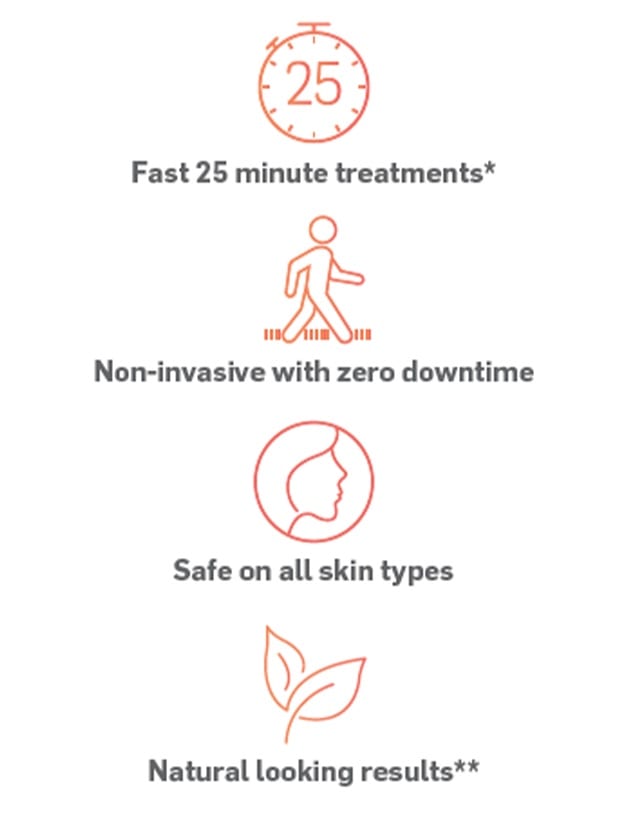 What Happens During a SculpSure Treatment?
A SculpSure procedure begins with the provider attaching an applicator to the treatment area. There are 4 different applicators, which are designed to fit specific areas, and more than one applicator can be used at the same time to address different areas. During the treatment, most patients experience an intermittent tingling sensation that is generally well-tolerated.
A Reputation Built on Results
You deserve the highest caliber of service, care, and results, and at Pope Plastic Surgery, we're committed to providing all that and more. But don't take our word for it—see for yourself what our actual patients have to say about their experiences with us.
Read More Patient Reviews
Do I Need More Than One Treatment?
The number of SculpSure treatments needed varies from patient to patient, depending on their concerns and cosmetic goals. During your consultation, we'll discuss the outcome you want and work together to customize a treatment plan designed to achieve your goals.
How Long Until I See Results?
Because the process of fat cells dying and then being absorbed and flushed from the body occurs gradually, the results of your SculpSure treatments can take about 6 weeks to emerge. The optimal results are typically seen after 12 weeks.
Will SculpSure Results Last Forever?
Results won't last forever, but if you maintain an active lifestyle that includes regular exercise, and you eat a balanced, nutritious diet, you can expect the results to be long-lasting. The fat cells destroyed during the procedure won't regenerate, but other fat cells can become larger if you gain weight.
Is SculpSure a Weight-Loss Treatment?
No. Our bodies store fat cells, and the number remains fairly constant throughout our adult lives. When you lose weight, fat cells shrink but remain in the body. If you've ever had trouble with fluctuating weight, fat cells are enlarging, shrinking, and then enlarging again based on several factors. The fat cells targeted by SculpSure, on the other hand, are eliminated from the body and won't return.
What Is the Next Step?
Are you ready to discover the difference 30 years of dedicated experience as a plastic surgeon can make in your care and results? Request a consultation at Pope Plastic Surgery or call (407) 857-6261 for an appointment.
Back to Top