Pope Plastic Surgery: George Pope, MD, FACS
2629 Edgewater Drive
Orlando, FL 32804
Phone: (407) 857-6261
Monday-Thursday: 8:30 a.m.-5 p.m.
Friday: 8:30 a.m.-12:30 p.m.

KYBELLA®
If you are bothered by the appearance of a "double chin" and want to achieve a slimmer profile, you may benefit from KYBELLA injections performed by Orlando, FL, plastic surgeon Dr. George Pope and nurse injector Linda Gilliland.
What Is KYBELLA?
KYBELLA is the first and only FDA-approved nonsurgical treatment that contours and improves the appearance of submental fullness. KYBELLA is a nonsurgical, 15- to 20-minute in-office treatment session. It is customized to help you achieve your treatment goals by destroying fat cells when injected into the fat beneath your chin. Once the aesthetic goal is achieved, re-treatment is not expected. The most common side effects of KYBELLA include swelling, bruising, pain, numbness, redness, and areas of hardness in the treatment area.
"At 41, I'm feeling more confident in my appearance than I did before KYBELLA. Now, when I look in the mirror, I'm happy with how I look and feel. I don't feel like I'm trying to hide something anymore."—Amy, age 41
What Is Submental Fullness?
Submental fullness, sometimes referred to as "double chin," is a common yet undertreated facial aesthetic condition that can impact a broad range of adults, including both women and men. Causes may include:
Aging: It may naturally develop as you age
Genetics: Simply said, it may be part of your DNA
Weight gain: It may be a result of gaining weight
Sometimes, no matter how much you diet or exercise, the condition may not go away and can make you look older and heavier than you actually are.
If You're Bothered By It, You're Not Alone
According to a 2015 survey conducted by the American Society for Dermatologic Surgery (ASDS) 67% of people said they're bothered by submental fullness.
How Does KYBELLA Work?
The active ingredient in KYBELLA is deoxycholic acid, a naturally occurring molecule in the body that aids in the breakdown and absorption of dietary fat. When injected into the fat beneath your chin, KYBELLA causes the destruction of fat cells. Once destroyed, those cells cannot store or accumulate fat.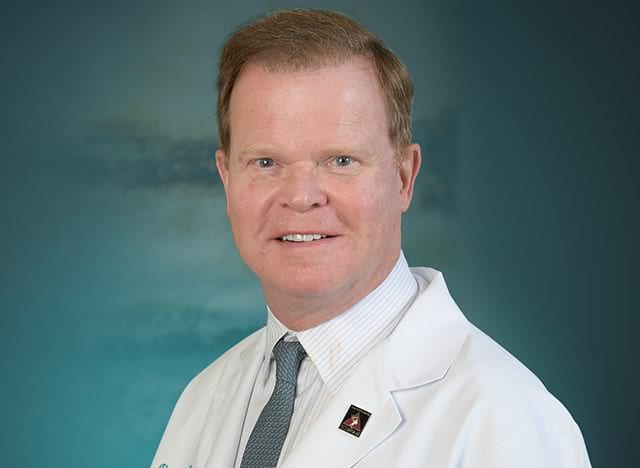 George Pope, MD, FACS
Dual Board-Certified Plastic Surgeon
Respected by patients and other physicians, Dr. Pope has been serving the Orlando area for over 30 years. Whether you're considering enhancement of your face, breasts, or body, he has the training, talent, and experience necessary to achieve the attractive results you want.
Meet Dr. Pope

Is KYBELLA Right For Me?
KYBELLA may be right for you if:
You're bothered by submental fullness
Surgery is not an option for you
You feel the condition makes you look older or heavier than you actually are
You eat well and exercise, but submental fullness does not go away
How Many People Have Been Treated With KYBELLA?
KYBELLA has been the focus of a global clinical development program involving more than 20 clinical studies with more than 2600 patients worldwide, of whom more than 1600 have been treated with KYBELLA.
A Reputation Built on Results
I want to thank Dr. Pope for an amazing procedure! From the first conversation on the phone with his...
Dr Pope and his team are both honest and respectful. Upmost care to their patients and always listen...
Dr. Pope is the most talented Surgeon. He is very knowledgeable, experienced, and very kind. As soon...
honest and really cares about his patient !!
How Is KYBELLA Administered?
KYBELLA is typically given in a 15- to 20-minute in-office treatment session. Dr. Pope will give you a series of injections into the fat under your chin at each treatment session. You and Dr. Pope will customize your KYBELLA treatment based on the amount of submental fullness you have and your treatment goals. Together, you will decide the treatment plan that's right for you.
How Many Treatments Will I Need?
Many patients treated with KYBELLA experience visible contouring of their chin profile in 2 to 4 treatments.* Some people require up to 6 treatments in order to achieve results. Once your chin profile has improved, you may not need to be treated with KYBELLA again.
How Much Does KYBELLA Cost?
The cost of KYBELLA in the Orlando area depends on factors such as how many treatments you'll need. Dr. Pope or Linda will discuss your specific pricing after assessing your concerns and goals. Pope Plastic Surgery is proud to offer financing with CareCredit® to help make KYBELLA treatments even more affordable.
What Is the Next Step?
Are you ready to discover the difference 30 years of dedicated experience as a plastic surgeon can make in your care and results? Request a consultation at Pope Plastic Surgery or call (407) 857-6261 for an appointment.
Back to Top